School Announcements
13 days ago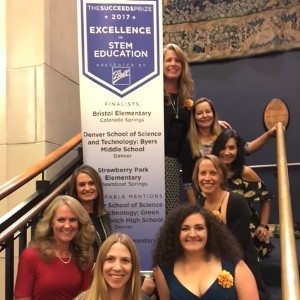 Strawberry Park Elementary School Celebrated as a Finalist for Excellence in STEM Education Award
PRESS RELEASE
(October 4, 2017) – Strawberry Park Elementary School was celebrated as a finalist for The Succeeds Prize for Transformational Impact in an Elementary School for Excellence in STEM Education at an awards ceremony on Tuesday. The Succeeds Prize, the state's most prestigious awards and recognition event, honors the transformational impact of Colorado's public schools and educators. Strawberry Park was awarded a $5,000 cash prize for being a finalist and teacher, Katie Weeks, received $1,000 for Educational Leadership.
"As a finalist for this award, Strawberry Park was recognized for the high-quality learning experiences it offers," said Brad Meeks, Superintendent of Steamboat Springs School District. "As a school district, we strive to set the standard for education regionally, nationally, and globally. This prestigious recognition of Strawberry Parks' approach to STEM education is helping us do just that."
The Succeeds Prize is a collaborative effort between 9NEWS and Colorado Succeeds, a non-partisan business coalition focused on education issues. The Succeeds Prize finalists were selected by a prestigious group of education, government, and business leaders.
"As a finalist for The Succeeds Prize, we became part of a community made up of the best STEM programs in the state," said Strawberry Park Elementary School Principal, Tracy Stoddard. "We will continue growing and advancing our great STEM program by tapping into the wonderful expertise of our fellow Succeeds Prize finalists."
As part of The Succeeds Prize, Strawberry Park's successful STEM practices and techniques will be shared with educators statewide to positively impact Colorado's nearly 900,000 public school students.
Join the Steamboat Sneak!
Saturday, October 14th
The Steamboat Sneak is a benefit for Soda Creek & Strawberry Park Elementary Schools. All money raised supports the Parent Involvement Committee and Challenge Fund which provides funding for teacher programs, classroom equipment, field trips, and educational opportunities our classrooms! The Steamboat Sneak is in its 8th year. It has successfully helped raise over $55,000 for our local elementary schools. Register at www.steamboatsneak.com
5K STARTS AT 10am
FUN RUN STARTS AT 10:05am
All ages welcome!
Hike and Bike to School 2017

Every Friday Morning

Everyone can participate, including bus riders!

Your student can be dropped off by the bus at the high school where community service officers and volunteers will be present to safely manage street crossings.

Additional information and permission slips are available on the school website.

Have an opinion? Let us know, take the survey!



New To SPE?
5 months ago
New to Steamboat and looking to meet other parents or students over the summer?
SPE Mission/Vision
12 months ago
A mission statement describes in simple terms, but with carefully chosen, powerful words, the purpose of an organization. It can also describe what the organization intends to accomplish. Strawberry Park Elementary's new adopted mission is Engaged Learners, Demonstrating Character. To support students in fulfilling the mission, teachers will focus on different character traits each trimester.
During 2nd trimester, we will explore and learn about honesty. Honest people are trustworthy, dependable, and respected by others. An honest person tells the truth, regardless of the consequences. As America's first President, George Washington said in his Farewell Address, "honesty is always the best policy."
Challenge Fund / SPE PTIC
5 months ago
THANK YOU to all the students who earned money during the Spring Cleanup and donated it to the school.
KIDS, you donated over $7,000 to the Challenge Fund.
WAY TO GO!
Have a wonderful summer and we look forward to seeing you at the next event, The Steamboat Sneak- FUN RUN.


SUPPORT YOUR LOCAL SCHOOLS
Thank you to Casey Quillen who is now the PTIC President.
Please let her know if you would like to help at the ice cream social or if you have a middle school student who would like community service hours.
Don't forget these easy ways to help support our school:
● Box Tops - each class has a collection box. The class with the most box tops will win a pizza party!
● Don't forget to register your City Market card. Register it once and SPE benefits!https://www.citymarket.com/topic/city-market-community-rewards
● Oliver's Labels - Order labels to mark all of your child's belongings and 20% goes to SPE.http://www.oliverslabels.com/SPEPIC